Producer
Riga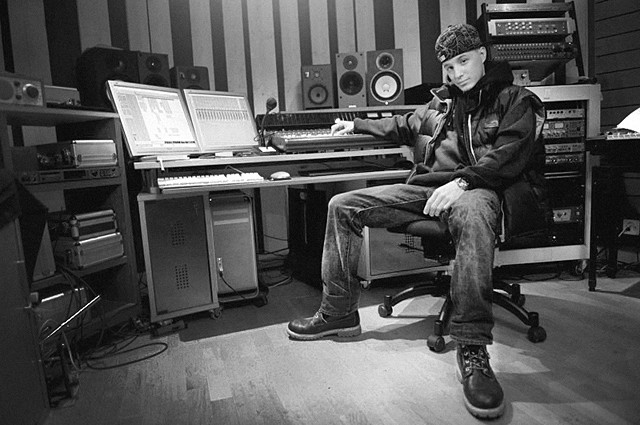 Nationality: Irish
Place of Birth: Geneva (Switzerland) / 1982
---
Although Hemp Higher Productions only released its first full-scale album production in 2010, the origins of the Hemp Higher crew date from much earlier. In 2002 a group of music enthusiasts from Geneva: Riga, Toy Selecta, Kudja, John Cactus, Franklin and Ruff D, established the «Hemp Higher Crew" – a DJ and sound crew determined to promote reggae and dancehall music in their region. After several successful shows in Geneva and Lausanne, they were one of the first DJ crews to release mix-CDs in "the street" in Switzerland encouraging the development of Dancehall & Reggae music.
Gary "Riga" Burke – subsequently  moved to the UK and completed a university degree in Audio Engineering in SAE in London. This London experience exposed him to a wide range of Jamaican and international artists. Riga then started organising "dubplate" sessions for various dj's and Sounds, providing an introduction to major artists such as Capleton (on his first ever European tour), Buju Banton, Alton Ellis, Vybz Kartel and many more.
Although the tempo of  live shows dwindled, the "HH Crew" continued releasing mix-CD's in the UK, France, Switzerland and Germany  - building a solid reputation. Hemp Higher mixes included: Mash up (2002) / Juggling Vols. 1 & 2 (2003-2005) / Memba dat (2004) / Inna Di Dance Vol. 1 – 6 (2004 – 2006).
While working in London Camden Market selling CD's, Riga made the acquaintance of another dancehall enthusiast from Germany : Kingsley Addo. Together they created an events management company: "Inna di Dance Events".
"Inna di dance" Events was further expanded in Germany by Kingsley Addo and "Juggla" (Talawah Sound). Riga left the team after leaving the UK to move back to Switzerland, thereafter setting up another Swiss-based events company, together with DJ Vincz Lee and Proceed Entertainment.  Their monthly "Swiss Dancehall Sessions" quickly became one of the leading events in the French-speaking region of Switzerland.
While in London, Riga had spent time working for EMI and Virgin Records. Armed with this inside experience of how major music companies do business, Riga was determined to take that knowledge and build on it for the benefit of dancehall and reggae music development outside the UK.
On his return to Switzerland in 2006, Riga started composing tracks himself and was rapidly signed by the country's top producer (multiplatinum-seller Yvan Jaquemet) and was invited to join Switzerland's No1 beat-making team: Union Beats Switzerland. This platform was the springboard for his first major releases in Germany: Massiv (Sony BMG) / M.O.K , collaborations with major artists in France (Ol' Kainry / Daddy Mory / Tairo) and his first album chart entries in Switzerland (Greis / 6er Gascho).
After focusing on hiphop releases for 2 years, Riga returned to producing more dancehall-oriented music. In 2007, he teamed with Cali P – the start of a long-lasting collaboration between the artist and Hemp Higher Productions – which gave birth 4 years later to the release of the "Unstoppable" album. This breakthrough album topped the I-tunes reggae charts in the US, Canada and Switzerland shortly after release.
From 2010, Hemp Higher Productions also started collaboration with a number of international dancehall artists such as Serani, Bugle, T.O.K, Gappy Ranks, Tiwony, Admiral T and more. These collaborations gave birth to several "Riddim Albums" such as Burn Up Riddim, Ovaseaz Riddim, Moonlight Riddim, The Evolution Riddim, etc…
Since 2009, Riga and Cali P have also worked in close collaboration with seven-time "X-Games" Ski Champion Tanner Hall and Inspired Media Concepts. They participated actively in the creation and production of the soundtracks of four "Inspired" movies: "The Massive", "Like a Lion", "Retallack" and "The Education of Style".
In 2011, Riga steadily expanded the "Hemp Higher" artist roster, signing the very talented UK-based Randy Valentine, whom he continues to actively manage.
2011-2012 were been productive years  for Riga & the Hemp Higher label. As the "Unstoppable" album entered the charts, Hemp Higher proceeded to release a staggering six further music videos in as many months – securing rotation on Hype TV (Jamaica), MTV Switzerland and MTV Africa. Cali P's single "No Way" was play-listed on Swiss national radio – which rarely playlists dancehall music.  Among other things, this led to the nomination of Cali P as Best International Male Artist at the British Reggae Industry Awards. By mid-August, Cali P reached the final five nominees, alongside Damian Marley, Busy Signal, Taurus Riley & Anthony Cruz.
2012 was also an exceptional year for another rising star from the Hemp Higher camp: Randy Valentine. Riga & Randy Valentine went on tour to Panama and Costa Rica, together with Straight Sound & DJ Chiqui Dubs,  performing alongside Busy Signal and Warrior King (see the video: Hemp Higher Central America Tour – 2012). Back from central America, the touring continued with the Unstoppable Summer Tour 2012, accompanying Cali P & "Jugglers" across Germany, Switzerland, Slovakia, Poland and Austria.
End of 2012, Riga teamed up with long lasting friends Straight Sound to releae Randy Valentine's debut mixCD "Bring back the love" – which catapulted Randy to the forefront of the European reggae scene. Gathering an astonishing 35'000 downloads in the first 6 months – teaming up with European booking agency "Rhytmn and flow" the MixCD secured Randy a staggering 35 show tour throughout Europe in 2013!

In october 2013, Riga then chose to collaborate with european top reggae producer Jr Blender in order to release Randy Valentine's debut EP – which enabled Randy to continue to ride the wave of success as it went straight to No1 on the itunes reggae charts in over 8 countries the day of it's release in May 2014. The team then continued with a second major summer european tour, which also saw Randy give 2 amazing performances at Summerjam 2014 (opening the festival on the main stage and also an exclusive acoustic show in the evening presented by Jugglerz).

Randy Valentine's Touring success continued in to 2015, with the release of "Still Pushing" (produced by Joe Ariwa), and Riga set up 2 US media tours before managing to place Randy as Headliner of "Reggae on the River" in 2016 – North America's biggest Reggae festival (on his first west coast tour).

2015 was also a major year for Riga's protege Randy as he featured on Major Lazer's "Roll The Bass" single from the "Peace is the Mission" EP.

2016 was a very busy year for Riga and the label as both Cali P and Randy Valentine were constantly touring, he hardly had any time to work in the studio, but still managed to release several tracks, including features with Popcaan, Sizzla, Kabaka Pyramid, Walshy Fire and More…

Look out for new material in 2017!
January, 2017